The Dominik Tatarka Literature Award for 2006 went to Kornel Földvári for his book O karikatúre (About Caricature) and his positive spirit. The chairman of the jury and president of the M. R. ©tefánik Conservative Institute, Peter Zajac, presented the award to the writer, publicist, fine arts and literature reviewer, and translator in Bratislava's Pálffy Palace on March 14.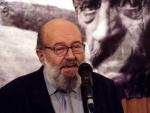 This prestigious award for literature is given to authors who write exceptional literary works exemplifying the humanistic traditions of Slovak culture. The award is the intellectual legacy of Dominik Tatarka (1913-1989), an important dissident of the 20th century.
About Caricature consists of studies, essays, reviews and contemplations about fine arts, which Földvari, 75, wrote over the last 20 years. It also contains the work of Slovak and international cartoonists.
The Dominik Tatarka Prize was first given in 1995 to Milan Hamada. Among those awarded in its 13-year-long history are Duąan Duąek, Ivan ©trpka, Pavel Vilikovský, and Frantiąek Mikloąko.
Article was published on the website of The Slovak Spectator. Compiled by Jana Liptáková from press reports.