Dezider Tóth receives Tatarka Award
[22.05.2012, Admin, DOMINIK TATARKA AWARD]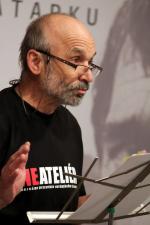 On May 22nd, 2012, the Dominik Tatarka's Award for 2011 was presented to Dezider Tóth for his book I Am Not an Author, I Am a Metaphor in Pálffy Palace in Bratislava.
Dezider Tóth is known as one of the key personalities on the Slovak art scene during the second half of the 20th century, and this book explores his diverse creations. Filled with playful words and powerful images, it demonstrates Tóth's dedication to painting, conceptual art, and the construction of installations and models. A comprehensive review of this world-renowned artist is featured, including reproductions, personal testimonies, and commentary from a prominent art historian (Source).
KI and the Jury of Dominik Tatarka's Prize are awarding this prize yearly. Dominik Tatarka's Prize is considered to be the most prestigious Slovak prize for literature and it is dedicated to the author for an exceptional work, which meets the humanistic traditions of Slovak culture and links thereby to the intellectual heritage of the writer Dominik Tatarka.
For more information please visit our webpage in Slovak language here.