Peter Gonda, CI analyst, on a study visit in USA
[13.02.2005, Admin, NEWS]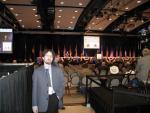 The first part of the stay, from February 14 to March 13, will be managed on the basis of invitation of Jason Turner, Turner Government Operations, and oriented at research of Welfare Reform in the USA. The mentioned study visit will be held in Washington D.C., New York, Wisconsin and Colorado. This study visit is a follow-up on earlier cooperation between CI and Jason Turner. CI together with Association for Social Reform has started cooperation with Jason Turner in 2004. He has presented his experience of implementing Social Reforms in Wisconsin and New York on a conference of CI in Bratislava on March 18, 2004. The cooperation has continued by invitation of Jason Turner for CI to Work First Europe Conference 2004 in Budapest, where Peter Gonda presented evaluation of welfare system in Slovakia.
The second part, from March 14 to March 26, will be dedicated to communication activities of CI aimed at establishing contacts for future cooperation with conservative think-tanks in USA and presenting results and current objectives of CI.
All the results of this stay will be used by CI. Experience from this visit study will be aimed at facilitating introduction and discussion of US social programs principles in the public debate and to influence the decision makers (mainly members of national parliament and elected representatives of the regional and local self-governments) and policy influencers (mainly media and academics) in Slovakia.