in co-operation with

thanks to a sponsorship by

organized a lecture given on December 10, 2008 in Bratislava within

Conservative Economic Quarterly Lecture Series /CEQLS/
by
Marcel Guarnizo
Chairman of Educational Initiative for Central and Eastern Europe
Economics, Philosophy and Foundations of Democracy
Hosted by:
Peter Gonda, the Conservative Institute chief economist
---
Marcel Guarnizo: CEQLS Lecture for the Conservative Institute, Bratislava, December 10, 2008 /Lecture, part 1/
Marcel Guarnizo: CEQLS Lecture for the Conservative Institute, Bratislava, December 10, 2008 /Lecture, part 2/
Marcel Guarnizo: CEQLS Lecture for the Conservative Institute, Bratislava, December 10, 2008 /Discussion, part 1/
Marcel Guarnizo: CEQLS Lecture for the Conservative Institute, Bratislava, December 10, 2008 /Discussion, part 2/
---
Read the lecture presented by Rev. Marcel Guarnizo here.
---

Rev. Marcel Guarnizo (USA) is an American by birth, he is a Catholic diocesan priest belonging to the Archdiocese of Moscow, Russia. Rev. Guarnizo studied theology and philosophy in Rome where he specialized in Metaphysics.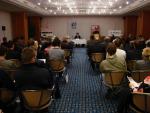 He became one of the first priests ordained in Russia since the fall of the wall. He is the founder and President of Aid to the Church in Russia an organization dedicated to the reconstruction of the Church patrimony destroyed by the communist in Russia.

He is also the founder and Chairman of the Educational Initiative for Central and Eastern Europe (EICEE) a foundation committed to the strengthening and promotion of free, just and democratic societies in Central and Eastern Europe.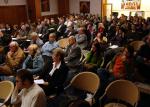 Rev. Guarnizo has lectured and taught in many countries of the region and has worked with universities, students, and leaders in the region since 1993. As one of the speakers, Rev. Guarnizo have participated recently in several economic liberal forums, such as:
photo/mg05.JPG

• Free Market Road Show in Prague in Panel: Property, Freedom and Democracy (more here)
• Economic Forum of Young Leaders in Nowy Sancz in Panel: Foundation of Democracy (more here)
• European Resource Bank Meeting in Tbilisi in Panel: Reforms need more than sound economics (more here)
Media partners: