Conservative Institute of M. R. Štefánik
organized on October 13, 2016 in Bratislava another lecture within the
Conservative Economic Quarterly Lecture Series /CEQLS/:
Financial Markets and the Wealth of Nations
Lecture given by:


Jörg Guido Hülsmann
Professor of Economics at the University of Angers
Hosted by:
Peter Gonda, the Conservative Institute Director
Jörg Guido Hülsmann: CEQLS Lecture for the Conservative Institute, Bratislava, October 13, 2016

Presentation for the lecture is available in PDF format here.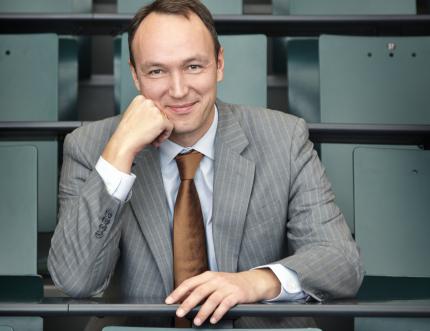 Jörg Guido Hülsmann is a professor of economics at the University of Angers, where he lectures on macroeconomics, on monetary and financial economics, on growth and development, and on financial risks.
He is also a Senior Fellow of the Ludwig von Mises Instituteand an elected member of the European Academy of Sciences and Arts.
He directs the Austrian Economics Research Seminar. He serves as an expert for academic institutions in France, Germany, and Russia, and as a referee for international peer-reviewed periodicals such as the Journal of Economic Issues, the Journal of Business Ethics, the Quarterly Journal of Austrian Economics, and the Journal of Markets and Morality.
Prof. Hülsmann has been invited to give key-note lectures and other presentations in twenty-three countries on four continents.
He is the author of seven monographs, most recently Krise der Inflationskultur (2013) and The Ethics of Money Production (2008), and he has edited or co-edited six other books, most recently The Theory of Money and Fiduciary Media (2012). His books and articles have been translated into twenty languages.
His current research focuses on the political economy of financial markets, as well as on the theory of money and banking. More detailed information is available on his website, at his university page, as well as in his CV.
Partners:

Media Partners: