The prestigious Slovak literature award the Dominik Tatarka Prize for 2003 went to the artist, professor, and writer Rudolf Fila on May 14 for his essay-book cestou (on the road).
According to the award's jury, Fila's book reaches a high scholarly and artistic level, and significantly contributes to the idea of developing human freedoms, mainly the freedom of creation.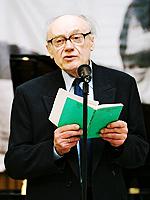 As is the tradition, Fila received a piece of art along with the main prize: 21st sonata for piano Questions Without Answers, composed by Ilja Zeljenka, Fila's friend, and performed by pianist Magdaléna Bajuszová. Last year's laureate of the Tatarka Prize, Ján Johanides, delivered an appreciation of Fila, who presented an essay on Dominik Tatarka.
The Dominik Tatarka Prize was first given in 1995 to Milan Hamada. Among those awarded in its decade-long history are Dušan Dušek, Ivan Strpka, Pavel Vilikovský, and František Mikloško.
Fila, who lives in Bratislava, was born in Příbram, the Czech Republic, in 1932. His works can be found in the collections of the Slovak National Gallery, Prague's National Gallery, the Morava Gallery in Brno, the Museum of the 20th Century in Vienna, and in other European as well as American towns.
Article was published on the website of The Slovak Spectator.