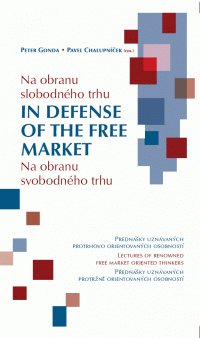 Conservative Institute in co-operation with Liberalni institut, Prague, published a book of lectures of renowned free market oriented thinkers delivered within the Conservative Institute of M. R. Štefánik Project "Conservative Economic Quarterly Lecture Series" (CEQLS) in Bratislava and Annual, Spring and Autumn Lectures of Liberalni Institut in Prague.
All lectures published in a book entitled In Defense of the Free Market are in Slovak or Czech Language as well as in English.
---
Contents
Foreword
Alejandro A. Chafuen
Editorial
Peter Gonda:
Confidence in Man and Spontaneous Order in Society
Pavel Chalupníček:
The "Invisible Hand" and Toward a Free Society
Lectures
James M. Buchanan:
Beyond Law – The Institutionalized Ethics of Liberal Order
Prague, 10. 10. 2002
Pascal Salin:
Property Rights, Competition and European Union
Prague, 9. 10. 2003
Marian L. Tupy:
Central and Eastern Europe and the Euro: No Need to Rush In
Bratislava, 15. 6. 2005
Anthony de Jasay:
Social Justice Examined (With a Little Help from Adam Smith)
Prague, 23. 6. 2005
Daniel J. Mitchell:
Tax Harmonization versus Competition in the European Union
Bratislava, 17. 10. 2005
William A. Niskanen:
Alternative Political and Economic Futures for Europe
Bratislava, 8. 12. 2005
Ted Abram:
The Sad History of Welfare in the U.S.A
Bratislava, 9. 3. 2006
Ron Paul:
Ludwig von Mises and Politics
Prague, 29. 5. 2006
Václav Klaus:
Ludwig von Mises – The Greatest Defender of Economic Liberty in the 20th Century
Prague, 29. 5. 2006
Richard W. Rahn:
The Keys to Economic Growth and Freedom and the Role of the Government
Bratislava, 27. 6. 2006
Johnny Munkhammar:
Copy the Nordic Solutions, Not the Problems!
Bratislava, 23. 10. 2006
Bjørn Lomborg:
Economic Growth – Threat for the Environment?
Prague, 12. 10. 2006
Josef Šíma:
Property Rights vs. "Public Interest"
Bratislava, 13. 12. 2006
---
The book is published thanks to the kind support of SPP Foundation (Slovak Republic), Friedrich Naumann Stiftung (Czech Republic) and with the help of the financial award received by Conservative Institute of M. R. Štefánik from Atlas Economic Research Foundation as Honorable Mention within the Templeton Freedom Awards in 2007.



---
The Editors also would like to express their gratitude to the sponsors of the CEQLS lectures in Bratislava – Europe & Democracy, US Embassy in Slovakia, The American Chamber of Commerce in Slovakia, Royal Netherlands Embassy in Slovakia, as well as to the media partners of the lecture events within the CEQLS – Economy and Business Weekly TREND and infoNET.tv, and to the sponsors of the lectures in Prague: Czech Coal, a. s., Česká infrastrukturní, a. s., Český Telecom, a. s., Friedrich Naumann Stiftung, Gutmann, Johnson and Johnson, s. r. o., Komerční banka, a. s., MasterCard, Plzeňský Prazdroj, a. s., Pražská energetika, a. s., PVT, a. s., RWE Group, a. s., Sekyra Group, Skupina ČEZ, Transgas, a. s., Vysoká škola finanční a správní.
The Editors also want to thank Josef Šíma from Liberalni institut and the colleagues from Conservative Institute of M. R. Štefánik for their assistance.
---
Media partner of the book is the TREND Economy and Business Weekly.