Conservative Institute of M. R. Štefánik
INESS
European Coalition for Economic Growth
Austrian Economics Center
Friedrich August von Hayek Institut
in partnership with

Entrepreneurs Association of Slovakia
TRIM BROKER
Food Chamber of Slovakia
SPIN Foundation
CEBSI
F. A. Hayek Foundation
Crowne Plaza Hotel Bratislava
organized in Bratislava on April 27, 2012
an international conference within
Free Market Road Show
Europe at a Turning Point.
Europe on the Road to Serfdom?

---
Welcome and introduction
---

Dr. Barbara Kolm, Austrian Economics Center, Vienna
Dr. Peter Gonda, Conservative Institute of M. R. Štefánik, Bratislava




---
Panel 1: Individualism vs. Collectivism: How much government can we afford?
---
We are in the middle of a public debt crisis of historical proportion and for most politicians the solution is more of the same – which means for them: more government intervention and government spending. However the most important question is often avoided: What are the reasons for the crisis - free markets or government intervention? Are our current (welfare) systems the cure or the cause for the crisis? Should governments take care of us or should we finally start taking care of ourselves? Is a paradigm shift realistic? The reasons for the current crisis and it's implications for the next generation in the light of recent European policies will be discussed.
Prof. Klaus Emmerich, Vienna

Frederik Cyrus Roeder, European Students For Liberty

Juraj Kotian, Erste Bank

Radovan Ďurana, INESS

Presentation by Radovan Ďurana: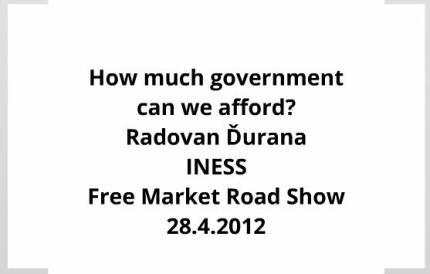 Panel I Discussion:

---
Panel 2: Harmonization vs. Competition: What brings us back on track on the road to growth?
---
As a result of the current public debt crisis, especially in Europe, many politicians and so-called experts view further harmonization on a European level as solution for the skyrocketing public debts. However, isn't diversity one of the key preconditions for our prosperity? What would be the consequences of a European Central Government? Apart from the recently discussed EU policies and their consequences, new and innovative solutions for the crisis will be discussed.
Dr.Daniel Mitchell, CATO Institute, Washington

Presentation by Daniel Mitchell:

Zdeněk Vilímek, Coca-Cola Northern Central Europe, Warsaw

Presentation by Zdeněk Vilímek:

Dr. Ján Oravec, Entrepreneurs Association of Slovakia, F. A. Hayek Foundation, Bratislava

Panel II Discussion:

---
Panel 3: Euro vs. Sound money:
The European Stability Mechanism – the end of financial sovereignty?
---
Will the Euro survive? Is it a precondition for a European identity and means of organizing a common market – or simply an instrument of exchange? Is the Euro an engine for integration or is it a potential cause for further conflicts and therefore dividing the European Union? Are there alternatives to the Euro and if so, what are the preconditions to avoid recent impairments? This panel will focus on any alternatives to fractional reserve, e.g. a necessity to return to gold standard and on the issue of currencies.
Dr. Barbara Kolm, Austrian Economics Center, Vienna

Presentation by Barbara Kolm:

Dr. Richard Otto Zundritsch, Added Value, Vienna

Dr. Peter Gonda, Conservative Institute of M. R. Štefánik, Bratislava

Presentation by Peter Gonda:

Juraj Karpiš, INESS, Bratislava

Presentation by Juraj Karpiš:


Panel III Discussion:

Photogallery: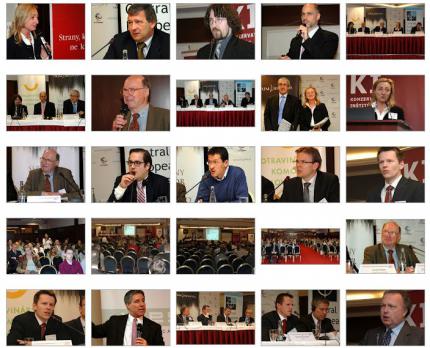 Free Market Road Show 2012:


Conference is a part of the Free Market Road Show, beginning in Bratislava in April 2012 and going on in following European cities - Kiev, Baku, Tbilisi, Ankara, Thessaloniki, Tirana, Podgorica, Sarajevo, Beograd, Zagreb - with the final stop in May 2012 in Ljubljana.
To learn more about the Free Market Road Show, please find out more here.
---
Main Organizing Partners:
---


---
Partners:
---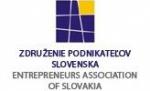 ---
Media Partners:
---