This year's Dominik Tatarka Literature Award went to Tomáš Janovic on March 21 for his book of aphorisms and epigrams entitled Maj ma rád (Love Me or Ask My Arse).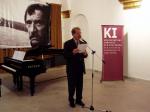 Previously known for his satirical tone, Janovic filled this book with more skepticism and melancholy, proving, as was stated during the ceremony, that his work is a long-term observation of paradoxes in our modern mentality.
The MR Štefánik Conservative Institute, in cooperation with the Dominik Tatarka Award jury, has given out the prize, named after Dominik Tatarka (1913-1989), an important dissident of the 20th century, for the last 12 years.
Article was published on the website of The Slovak Spectator. Compiled by Jana Liptáková from press reports.