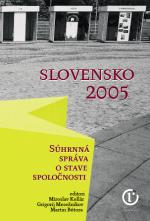 In the most recent population census conducted in 2001, more than one in eight Slovaks (13.1%) declared themselves to be members of an ethnic minority. Most belong to the largest ethnic group, the Hungarian minority, which totals 520,528 people (or 9.7% of Slovakia's population). The second largest ethnic group is the Roma, with 89,920 Slovak citizens (1.7%) declaring membership in it; however, various surveys and expert estimates put the total number of Roma in Slovakia at between 300,000 and 400,000. Other ethnic minorities are not nearly as numerous: 44,620 (0.8%) Slovak citizens declared Czech ethnicity, 24,201 (0.4%) said they were Ruthenian, 10,814 (0.2%) Ukrainian and 5,405 (0.1%) German. Other declared nationalities included Polish, Jewish, Moravian, Croatian, Serbian, Bulgarian and Russian.
...
There were no significant changes in the status of ethnic minorities in Slovakia in 2005. The incumbent administration once again postponed the adoption of the Act on the Status of Ethnic Minorities and the Act on Financing the Culture of Ethnic Minorities, even though they had been spelled out in its program manifesto and its plan of legislative tasks for 2005. It looks like the government has given up on passing either law before the end of its tenure.
Despite these partial failures, the fundamental rights of ethnic minorities are respected in Slovakia, and the most serious deformations in minority policy introduced by the Vladimír Mečiar administration were remedied between 1998 and 2002.
Author is a director of the Conservative Institute of M. R. ©tefánik.
This text corresponds the chapter of the book Slovakia 2005. A Global Report on the State of Society issued by the Institute for Public Affairs.
The full text is available here as an Adobe Acrobat PDF.
It is possible to purchase the publication published in English language here.