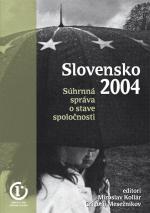 The past year brought many changes in the field of social policy. Some of them ensued directly from measures adopted by the Ministry of Labor, Social Affairs and Family, while others emerged indirectly, in reaction to other reforms. Some of these reforms and measures began to be implemented already in 2004 (e.g. taxation reform); others were approved by parliament and envisaged for launch in 2005 (e.g. health service reform or fiscal decentralization). The same applied to reform measures in all four areas of social policy that are analyzed in this chapter.
In the field of employment policy, the government abolished the National Labor Authority and divided its labor market policy into passive and active components. Unemployment insurance was institutionally incorporated into the system of social insurance and began to be administered by the Social Insurance Company. Also, it was made optional for self-employed people. The active labor market policy began to be regulated by the new Law on Employment Services, and administered by the newly established specialized state administration (i.e. local offices of labor, social affairs and family).
The government's assistance provided to people in material need was legislatively separated from the Social Assistance Act and began to apply a new system of benefits and allowances.
In the field of state social support of families with children, the government further enforced the universality principle. In 2002, the system began to disburse children's allowance on the across-the-board basis, i.e. regardless of families' fundamental situation; two years later, it abolished a special contribution to children's allowance that was previously provided to families with lower income. As part of taxation reform, the system introduced a tax bonus per child and a contributory bonus per child that are both provided to gainfully employed parents.
As far as the pension system is concerned, the adjusted first pillar of the pension scheme (i.e. the pay-as-you-go system) was launched and the launch of the second pillar (i.e. the compulsory fully-funded system) effective January 1, 2005 was prepared. Parliament abolished the Tripartite Act, which was one of the concrete recommendations presented by the Social Policy chapter in the previous year's Global Report...
Peter Gonda is an economic analyst for the Conservative Institute of M. R. ©tefánik
Ondrej Dostál is a director of the Conservative Institute of M. R. ©tefánik.
This text corresponds the chapter of the book Slovakia 2004. A Global Report on the State of Society issued by the Institute for Public Affairs.
The full text is available here as an Adobe Acrobat PDF.
It is possible to purchase the publication published in English language here.