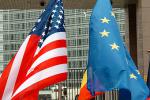 The different views of America and Europe concerning the world, and the threats existing in it, prompt the question how to secure peace and own safety.... The American answer is that only power and its use, i.e. by force of determent or preventive destruction of potential aggressors and threats, can provide peace in the world and their own safety. The European answer says that negotiations, talks and international treaties on disarmament as well as the establishment of common supranational institutions may achieve the same.
The article deals with different views of America and Western Europe on a needed foreign and defence policy. The American policy based on the use of power is, according to the author, a more adequate answer to the present security threats. He says that the European policy based on negotiation is an adequate way to put relations in Europe in order. But to apply this approach it is necessary to have a common culture and civilisation, therefore "the Western European approach" does not grant the West safety when it comes to threats posed by other civilisations or tyrannic regimes. The author asserts that "peace and security cannot be granted only by the treaties themselves. They can be granted only by the treaties backed up by power." With regard to the maintenance of NATO cohesiveness, according to the author, it is important to let the Central European voice, the voice of new members, sound in the Alliance together with the voices of America and Western Europe. And this voice should be "identical with the Western European voice when dealing with European issues, and closer to the American voice when it comes to the relations of the West with the rest of the world."
Author is the director of the Civic Institute in Prague and co-operates with the Conservative Institute of M. R. ©tefánik.
The article was presented at a conference held by the Conservative Institute of M. R. ©tefánik European Union – the View from Slovakia in Pie¹»any, Slovakia, on 11 – 13 October 2002.
The full text is available here as an Adobe Acrobat PDF.