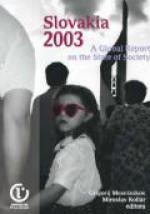 The Slovakia´s 2004 State Budget and its tax reform are classic instance of wasted, never-to-be repeated opportunities to make through reforms in the first stage of the election (and in the last months before EU accession) to achieve a reduction in the overall tax burden.
Author analyzes the main trends in public finances in 2002 and the first half of 2003. He evaluates affairs in this field on the basis of his calculations and adjustments of official figures, using internationally applied methodologies, especially those used by the International Monetary Fund and the European Union (Eurostat).
In the course of 2003, the Slovak Government prepared tax reform and took certain positive changes on the expenditure side of public finance budget. However, the author points out that key problems of Slovak public finance still prolong.
He also forecasts public finance developments in the near future, identifies the most serious public finance problems and risks, and suggests long-term directions for public finance reform in Slovakia. The author proposes - as a main objective of public finance reform in the future - substantial reduction in the government´s role in the economy, while rationalizing and decentralizing of general government as a whole. and in the redistribution rate of funds
Author is an economic analyst for the Conservative Institute of M. R. ©tefánik.
This text corresponds the chapter of the book Slovakia 2003. A Global Report on the State of Society issued by the Institute for Public Affairs.
The full text is available here as an Adobe Acrobat PDF.