Mr. Ted Abram accepted invitation of the Conservative Institute of M. R. Stefanik and participated on the conference "How to Solve the Long-term Unemployment and Poverty?" where he presented speech within the Conservative Economic Quarterly Lecture Series (CEQLS) on March 9, 2006 in Bratislava. The U. S. Ambassador to the Slovak Republic Rodolphe Vallee and lot of Amcham members were present at this event. We approached Mr. Abram with questions regarding sad history, positive trends and useful experience of welfare reforms all over the United States.
Q: Mr. Abram, in your presentation about development of welfare policy in United States I noticed many historic references about failure of the public policy bodies in helping poor and unemployment, which led to mismanagement of social services, enormous social spending and creation of "poverty gap." How did evolution of the welfare state in USA contributed to your desire to advocate real reform?
photo/soc3.JPG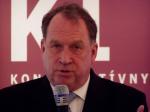 A: From 1974 to 1990 I was a trial court judge, handling everything from traffic tickets to murder and complex civil litigation. Since 1990 I have been working on implementing The Full Employment Program in Oregon and many other states. From 1990 to 2000 Chuck Hobbs, the former Domestic Policy advisor to President Reagan, was my partner in politically enacting The Full Employment Program. We traveled to nearly all the states, and we extensively discussed the rise of the welfare state. Chuck was brilliant and knowledgeable in the history of welfare in America. I had a unique prospective on the political thought and culture of America. From that background I began a study of comparative governments and the functions of government. I realized that government programs, though well intentioned, are doomed to fail. First, government programs are guided by rules and regulations. Second, ultimately, institutional paralysis dominates. That is, the preservation of the government institution is more important than the mission. Finally, less fortunate humans become trapped by the government dole. I strongly believe that government programs will eventually fail in attempting to assist people in financial or moral need. Government programs, by legislation and rule, classifies groups of people in need, and government distributes remedies to the groups according to prescribed government rule. Group classification induces an acceptance of inferiority and culture of dependence by the people that government intends to assist. To the contrary, each person is unique. Only people helping people - family, friends and neighbors - can devote the time, energy and love to assist and encourage another human being in need. Family, friends, and neighbors will respond to the needs of people in need. Because of the obvious failure of the welfare state, we are seeing the return of people and organizations helping their fellow citizens.
Q: The main notion of US welfare reform from 1996 was put into place "workfare" instead of "welfare" together with decentralisation of social programs to states. You has been involved in designing of state welfare reform in Oregon, which is now internationally recognized as "Jobs Plus" program. Can you explain it a little bit? What kind of "manual to success" in helping poor and uneployment would you recommend to Slovakia according to your experience from Oregon?
A: JOBS-Plus or what we at the American Institute for Full Employment call "The Full Employment Program," essentially shifts from government paying people not to work to placing people in subsidized work with real employers performing a real job. JOBS-Plus used the money from government welfare and unemployment accounts to provide a wage. Employers were encouraged by the State of Oregon to expand their business and to hire people receiving public assistance - both welfare and unemployment claimants. The rules are simple. Anybody eligible for public assistance, is eligible for JOBS-Plus. The job must be an expansion job. The employer must train the person for the job. The employee is treated similarly to any other employee. The employer is not required to hire the employee at the end of the training period. The employee must work (pay for performance) and abide by the rules of the employer. The program was very successful. The employee, employers and the government case workers overwhelming appreciated the program. Employees gained confidence in their ability to be productive, and 75% went on to full time employment. Employers expanded their business, and had the satisfaction of helping people develop skills and progress. The government caseworkers were delighted to be really helping their clients to become self-sufficient. JOBS-Plus is an excellent model for Slovakia. Most employers are desirous to expand. A subsidized wage for six months gives the employer the opportunity to train the employee and to expand his or her business. If the welfare recipient is punctual, dependable and eager to learn, the employer will train the person. The welfare recipient develops the skills to be productive, and learns what skills are needed to advance to better paying jobs.
Q: Europeans tends to perceive poverty as a problem of material need and lack of general education, so they are generally focusing on completing the education as a main tool for rooting out poverty. Americans are more concerned about behavioral aspects of poverty as idleness and do prefere more on-the-job training than general education. Do you agree that lack of education is most crucial obstacle, which should be overriden on the way to gaining self-sufficiency?
A: It is true that in America people with more education people earn more money. Thus in the 1960s to the 1990s, America had many programs to educate people to higher income jobs. In general these programs educated, educated and educated, but did not place people in better paying jobs. Why, it sounded good, but it failed to acknowledge that the unemployable have often failed at school or have other habits that prevent them from obtaining work. From my experience, when assisting the unemployed, it is best to put them into work. Employers will train them for the immediate job. On the job the employee observes the skills and training needed to obtain a better job. Education to increase their knowledge and skill to be more productive and thus increase their income should also be available. The best learning is just in time learning. In other words, people learn best when it is real and important to their lives. I favor work, employer training, and education oriented to a better job.
Q: On the conference about tackling long-term unemployment nad poverty with your personal presence were apart of American experiences also presented three visions for future development of Slovak welfare policies. One from analysts of the Conservative Institute of M. R. Stefanik, second from Mr. Richard Sulik and third from the Minister of Employment, Social Affairs and Family Mrs. Iveta Radicova. Which one out these three visions do you see most viable and closest to your personal experience? How do you generally evaluate recent changes in Slovak welfare system you heard about on the conference?
A: First, I am most impressed with the interest by the government, members of parliament and the public in understanding and debating the future of welfare in the Slovak Republic. Also, I marvel at the reforms initiated to promote commerce and industry. I wish America had the flat tax and personal retirement accounts that have been enacted in Slovakia. In my opinion those reforms will do much to improve the opportunities for employment in Slovakia. Finally, I will repeat what I have stated before. Family, friends and neighbors best help people in need. Government programs are bound by rules and regulations that treat the unemployed people as inferior groups, which induces a culture of dependency. I strongly recommend a policy that reduces government dependency and encourages community groups (family, churches and self-help organizations) without government money to care for people in need. Again, I greatly appreciate the opportunity to be in Slovakia and part of a conference exploring the best way to help people in need. It was exhilarating to be with Slovakians so thankful for freedom and so eager to help their fellow Slovakians.
Interview was published in Connection - the official magazine of the American Chamber of Commerce in Slovakia
Michal Novota is a junior researcher for the Conservative Institute
---

Ted Abram has been executive director of the American Institute for Full Employment since 1990. During his tenure, Mr. Abram has traveled all around the United States advocating welfare reform. Testifying before many state assemblies and meeting with key political officials, he has helped implement elements of the Full Employment Program in 14 states. Prior to joining the American Institute, Mr. Abram served 16 years as a Circuit Court Judge for the State of Oregon. He spent ten years as Presiding Circuit Judge for Klamath and Lake Counties. Mr. Abram has served as a board of director for a number of organizations, including the Oregon Historical Society, Oregon Tech Foundation, Oregon Advocates for the Arts, Klamath & Lake County Child Abuse Response & Evaluation Services, Klamath Alcohol and Drug Abuse, United Good Neighbors, and The Oregon Shakespeare Festival. Mr. Abram earned a B.S. in Economics from the University of Oregon and completed graduate work in economics in Stockholm, Sweden, before receiving his J. D. from Willamette University College of Law. Mr. Abram also spent two years in Guatemala and Liberia while he worked in the U. S. Peace Corps.