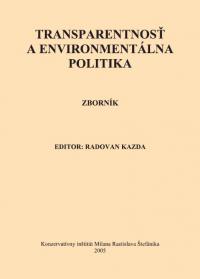 Non-transparency of procedures used by the government to achieve it's goals, becomes an important problem of it's performance. The non-transparency of the government is good background for the corruption, clientelism and other phenomena of power abuse of the decision-makers (i.e. those, who carry out the government policies) in their own favor.
However, Conservative Institute (CI) is convinced that in order to fight the corruption, the society must pay attention to the most efficient tool, which not only reduces an important parto of the corruption, but even eliminates it directly. This is the reduction of the government scope, i.e. the dercrease of the government action in these areas of the society's life, where such action is not unavoidable and where the goverment action becomes even a negative and progress restricting element.
In order to define the area of the problems related to transparency of the environmental policy execution, CI organized a conference in Ruľomberok, Slovakia, on April 19-20, 2005. This event was aimed to define the corruption risks of the current environment protection policy management and, first of all, to discuss on the base of transparent management of the environment protection policy in Slovakia. The publication represents a summary of the contributions presented at the conference held within the project called Reduction of Corruption Risks in Environment Protection Management, sponsored by Ekopolis Foundation.
Radovan Kazda, Editor
The publication is available only in Slovak language here as an Adobe Acrobat PDF.