CEQLS Lecture: Tim Evans: The Relevance of Classical Liberal Political Economy in Today´s World

thanks to a sponsorship by

organized a lecture given on September 20, 2010 in Bratislava within

Conservative Economic Quarterly Lecture Series /CEQLS/
by

Tim Evans
Chief Executive of the Cobden Centre,
Chairman of the Economic Policy Centre,
a Consultant Director with the Adam Smith Institute and
President of the Libertarian Alliance
The Relevance of Classical Liberal Political Economy in Today´s World
Hosted by:
Peter Gonda, the Conservative Institute chief economist
Tim Evans: CEQLS Lecture for the Conservative Institute, Bratislava, September 20, 2010

Tim Evans: Presentation for the CEQLS Lecture for the Conservative Institute, Bratislava, September 20, 2010

Tim Evans: Discussion following the CEQLS Lecture for the Conservative Institute, Bratislava, September 20, 2010

About Tim Evans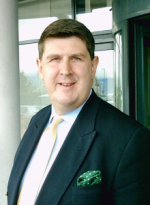 Tim Evans is the Chief Executive of the Cobden Centre, Chairman of the Economic Policy Centre, a Consultant Director with the Adam Smith Institute and President of the Libertarian Alliance.
A former President and Director General of the Centre for the New Europe (2002-2005) in Brussels, between 1993 and early 2002, he was the Executive Director of Public Affairs at the Independent Healthcare Association in London where he oversaw the political affairs and public relations of the UK's independent health and social care sector. In this role he was widely credited as being the major driving force behind the '2000 Concordat' which was described by the Financial Times as the most "historic deal in 50 years of British healthcare".
Prior to that, in 1991, he was the Head of the Slovak Prime Minister's Policy Unit in Bratislava where he worked alongside Dr. Jan Carnogursky. In the late 1980s he was the Assistant Director of the Foundation for Defence Studies and subsequently became a Senior Policy Consultant at the Adam Smith Institute. In 1993, he was awarded his PhD from the London School of Economics. A political sociologist specialising in economics, he has taught at a number of academic institutions over the years including teaching post-graduate students Social Policy at London's Guildhall University and the Economics and Politics of the Future on the Strategic Command Course of Britain's national Police Staff College at Bramshill. Since 2007 he has been a member of the Mont Pelerin Society.
V roku 1991 bol hlavným ekonomickým a politickým poradcom a vedúcim tímu poradcov predsedu vlády SR Jána Čarnogurského. Na konci 80. rokov 20. storočia bol zástupcom riaditeľa vo
A regular commentator on television and radio, his articles have appeared in the Guardian, Economist, Financial Times, Wall Street Journal Europe and a host of other newspapers around the world. The author of numerous books, monographs and articles he has been published by think tanks that include the Adam Smith Institute, Centre for the New Europe, Fabian Society, Institute of Economic Affairs, Fraser Institute, Libertarian Alliance and the Heritage Foundation.
Publications /selected/:
- Evans, Tim (1993): Europe at Risk: Bureaucratic Betrayal of the European Ideal, London, Adam Smith Institute
- Evans, Tim (1996): Conservative Radicalism: A Sociology of Conservative Youth Structures and Libertarianism 1970-1992, Oxford, Berghahn Books
- Evans, Tim and Govett, Helen: Big Mother's Deadly New World: How the Government is Going to Destroy Patient's Health Records and Kill People, Legal Notes No. 36., London, Libertarian Alliance, 2001
- Evans, Tim and Evans Helen: Back to the Future: Towards a Better State of Healthcare, Economic Affairs, April 2002
- Evans, Tim, Gabb Sean and Mingardi, Alberto (2004): From Antitrust to Disaster: An Overview of European Union Competition Policy, Brussels, Centre for the New Europe
- Evans, Tim and Gabb, Sean (2004): The Cost of European Environmental Regulations in the Accession Countries of Central and Eastern Europe, Brussels, Centre for the New Europe
- Evans, Tim, Gabb, Sean and Pollard, Stephen (2004): Why Greater Freedom of Patients Information in European Healthcare Could Save Lives and Money, Brussels, Centre for the New Europe
- Evans, Tim, Mingardi, Alberto, Philippe, Cecile and Pollard, Stephen (2004): Towards Greater Partnership in Healthcare Funding: The Rise of Health Consumerism in British and Other European Healthcare Systems, Brussels, Centre for the New Europe
---
CEQLS 2010 Main Partner:

Partners:



Media Partners: