Conservative Institute of M. R. Štefánik
with the support of general partner
Tatra banka Foundation
organized on September 26, 2013 in Bratislava another lecture within
Conservative Economic Quarterly Lecture Series /CEQLS/:
Egalitarianism as a Political Religion
Lecture given by:
Anthony de Jasay
Independent economist and philosopher
Hosted by:
Peter Gonda, the Conservative Institute Director
Anthony de Jasay: CEQLS Lecture for the Conservative Institute, Bratislava, September 26, 2013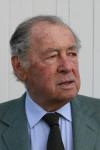 Anthony de Jasay is an independent economist and philosopher.
Anthony de Jasay (his name was originally Jaszay) fled his native Hungary in 1948. He has lived in Austria, Australia and England and since 1962 in Paris and Normandy. For seven years he worked in Oxford and was a Research Fellow of Nuffield College. Mr. de Jasay is a pioneer thinker of modern liberalism. His work is distinguished by its originality and clarity. He is widely considered as one of the most important and leading social philosophers of our age.
He writes in English. He has published half a dozen books on political philosophy, for instance The State (1988), Free Ride: A Study of the Public Goods Question (1990) and Justice and Its Surrounding (2002). Some of which have been translated into several languages (e.g. Liberalismus Neu Gefasst).
Two new books of Mr. de Jasay, Economic Sense and Nonsense and Social Justice and the Indian Rope Trick will be published by Liberty Fund at the end of 2013.
A Conversation with Anthony de Jasay (2000)

Published books:
Anthony de Jasay has published several books:
· The State (1985)
· Social Contract, Free Ride: A Study of Public Goods Problem (1989)
· Choice, Contract, Consent: a Restatement of Liberalism (1991)
· Before resorting to Politics (1996)
· Against Politics: on Government, Anarchy and Order (1997)
· Justice and its Surroundings (2002)
· Political Philosophy, Clearly (2010)
· Political Economy, Concisely (2010)
· Liberale Vernunft, Soziale Verwirrung (Liberal Reason, Social Confusion) (2010)

He has published numerous articles and columns, mainly in English but also in French and German. He also writes Reflections from Europe, a monthly column for The Library of Economics and Liberty.
Anthony de Jasay at European Liberty Conference (2010)

---
CEQLS 2013 General Partner:

Media Partners: